SERVICES
FUTURAMA Marbella & Costa del Sol
We help you through the whole buying and selling process in a safe, confidential and professional manner. Our service extends beyond the scope of a traditional real estate agency. We always guarantee a personal and dedicated service to every client. You will receive authentic independent advice from us.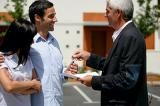 Some of our services :
1. FUTURAMA gives you access to the largest selection and to the best property deals on the Costa del Sol.
2. FUTURAMA is open from Monday to Friday from 10 am to 8 pm and Saturdays from 10 am to 2 pm.
3. We speak English, French, German and Spanish.
4. FUTURAMA offers access to the best lawyers on the Costa del Sol that speak your language. We only choose lawyers with professional indemnity insurance that protects our clients.
5. Help with finance & loans.
6. Free airport pickups.
7. Unique end-to-end Concierge Services for their most exclusive clients.
8. The highest level of confidentiality and professionalism
9. Access to bank repossessions
10. Help with rentals and after sales. See our Property Management
11. Advice and price estimation for sale
12.Creating high-quality reports, aerial photographs and videos for Internet
13. Affiliation with one of the coast´s most renowned real estate networks.
A PROFESSIONAL AND PERSONALIZED SERVICE
As independent agents, we are not linked to any developments, nor act as exclusive agents for any development, and therefore, we are not restricted to certain products. You will receive authentic independent advice from us.
SERVICE BEFORE AND AFTER YOUR PURCHASE
We shall not only show your properties, but we shall listen clearly to your requirements and through our extensive knowledge of the market, shall find the right property to match your needs.
During this period you shall have many questions about legal issues, urbanistic issues, taxes and finance and only experienced professionals like us shall be able to advise you on all these matters.
Please see also our sections: