NUEVA ANDALUCIA
Nueva Andalucia is an attractive area just west of Marbella where, as its name suggests, the villas and apartments in Nueva Andalucia are based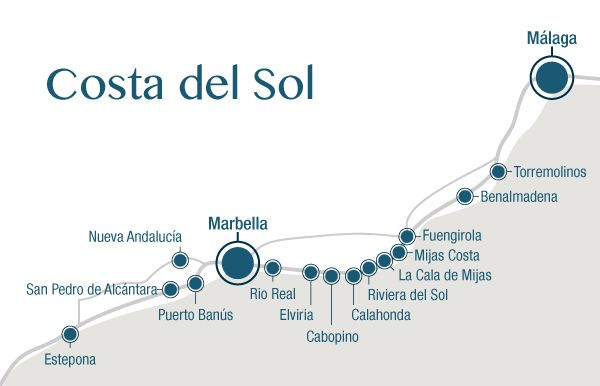 on traditional Andalusian architecture and design. By car it takes about 50 minutes to Malaga airport. It is 67 km from Nueva Andalucia center and the airport.
The area has a village feel, with a self-contained town centre of shops, bars and restaurants: a pleasant place for families or couples of most ages. The Nueva Andalucía area, reaching north from Puerto Banús with its five golf courses, tennis clubs and horse riding centres has been for over 25 years the most desirable residential area on the southern coast of Spain and has proven for both the private property buyer and investors, profitable and generally recession proof.
While Puerto Banús grabs the headlines and attracts the holidaymakers, the relative seclusion of Nueva Andalucía offers welcome relief from the spotlight for those that seek it. Humongous villas, exclusive gated communities and swathes of luxurious apartment complexes characterise its makeup, creating a community that enjoys all the benefits of Costa del Sol living without any of the inherent drawbacks that come with residing at the heart of one of the most popular tourist destinations in the world.
In fact, Nueva Andalucía has all the ingredients that comprise most people's idea of a 'dream life' in Spain – the spacious apartment with swimming pool; the Mediterranean views; the healthy outdoor lifestyle; the easy transition into a Spanish way of life without having to relinquish the comforts of home; and the peaceful atmosphere that is ideal for raising a family, or retirement.

Sports enthusiasts can find plenty on offer here with tennis, paddle tennis and gymnasium. For golfers in particular, the area could not be more ideal. Nueva Andalucia's Golf Valley, with its wide, tree-lined avenues and exclusive properties frontline golf villas as well as apartments and townhouses, is a spot where golf and luxury living come together in perfection. All the Nueva Andalucia golf courses are surrounded by stunning scenery with a backdrop of mountains. The area boasts four golf courses, but without doubt Las Brisas, Los Naranjos, Aloha Golf, and Dama de Noche which is floodlit at night, are among the most desirable clubs for the discerning golfer. The area offers a well-developed infrastructure of amenities, including some of Marbella's best restaurants. It is also within easy reach of Puerto Banús and its marina filled with luxury yachts.
For families with young children, Nueva Andalucía is a great option. Aloha College is a renowned international school for ages 3-18, while the Aloha Sports Club has daily tennis, netball, basketball, paddle and football classes for kids – and adults – of all ages. Keen golfers will enjoy the challenges posed by the excellent Aloha and Las Brisas golf courses, while the Centro Plaza Shopping Centre has plenty of restaurants, salons and cafes that are ideal for ladies who lunch – Starz Cafe proves a popular al fresco choice in the summer. There is also Plaza Gym here, a number of cutting-edge businesses and, to top it all off, a large open-air market every Saturday of the year.
In FUTURAMA Marbella & Costa del Sol we have a large selection of properties for sale in Nueva Andalucía (studios, apartments, penthouses, semi-detached houses and frontline golf villas), next to or close to the beach, on the frontline or in near urbanizations, including developments of good quality that have an excellent value for money. Likewise, we have very interesting promotions whether it is for sale on plan or its construction is being finalized. We are at your disposal to help you find your ideal home. Please click Contact.
GOLF COURSES:
· Las Brisas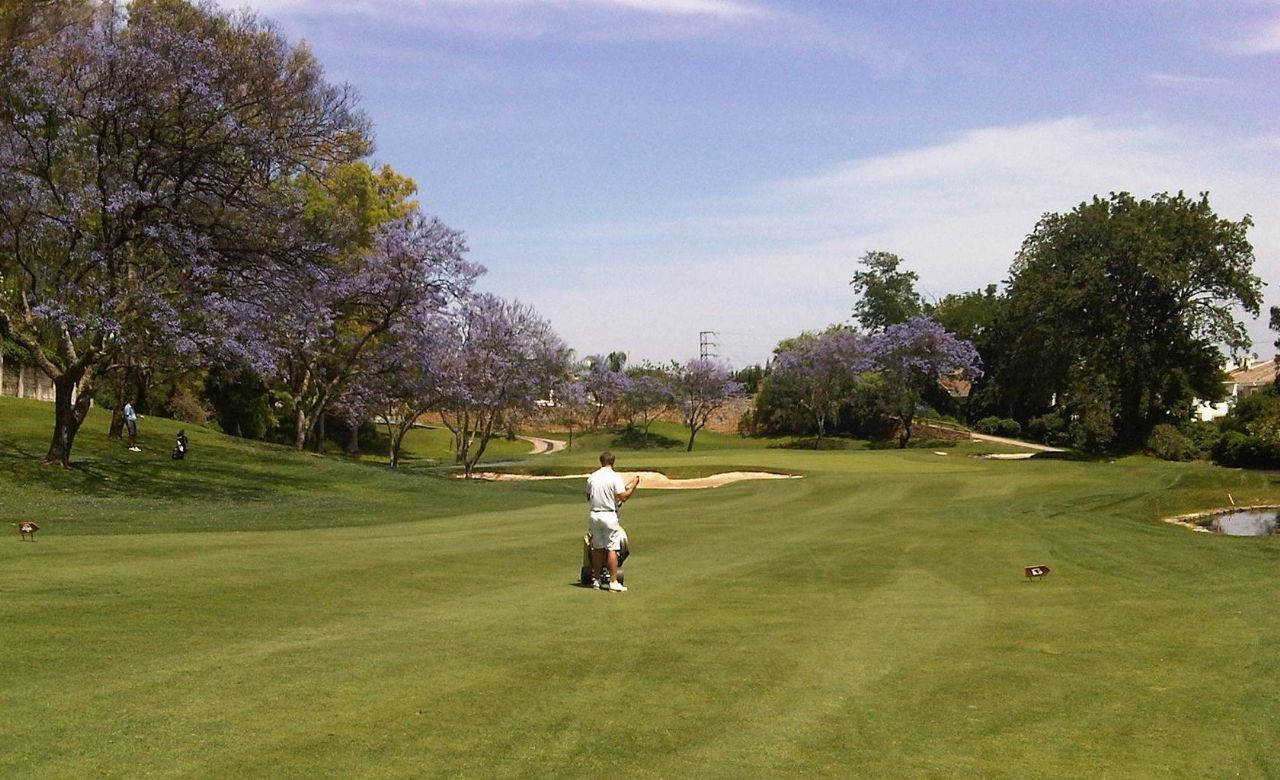 · Aloha
· Los Naranjos
· La Quinta
· Dama de Noche (9 holes)
· Magna Golf (9 holes)
GOLF SCHOOL:
· La Quinta
· Dama de Noche
· Magna Golf
TENNIS COURTS:
· Los Granados
· Aloha Gardens
· Guadaiza
PADDLE TENNIS:
· Los Granados
· Guadaiza
· La Quinta
GYMNASIUM:
· Centro Plaza
· Vasari
· La Quinta
· Playas del Duque
SPA:
· La Quinta
· Playas del Duque
HEATED POOL:
· Playas del Duque
KIDS CAMPS:
"ENFOREX":
MARBELLA "ALBERGUE – CENTRO, MARBELLA "ALBORÁN-LAS CHAPAS" ,MARBELLA "ALEMÁN-ELVIRIA"
FOOTBALL:
· Marpafut
· Guadaiza
· Aloha Gardens
SCHOOLS:
· Aloha College
BOWLING CLUB:
· Aloha Bowling Club
SUPERMARKETS:
· Opencor (3)
· Mercadona
· Supersol
· Hipercor
DEPARTMENT STORE:
· El Corte Ingles

BOUTIQUES:
· Puerto Banus
CINEMA:
· Puerto Banus
YACHTS:
· Club del Mar
RENT A BOAT
· Puerto Banus
QUADS, MOTORBIKES, BICYCLES:
· Cristamar
RESTAURANTS:
· Puerto Banus and Nueva Andalucía have many Restaurants of all cuisines, prices and categories.