Mijas Costa
A traditional Andalusian town, Mijas is a mass of majestic mountains, rising up inland to form Mijas Pueblo, and running down to the sea where Mijas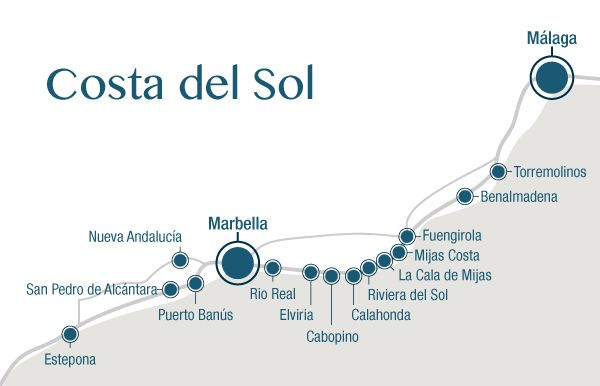 Costa offers 14 kilometres of beaches.
The area of Mijas Costa includes amongst others the popular holiday resorts Riviera del Sol, Calahonda and La Cala de Mijas, but basically, the swathe of land between Fuengirola and Marbella is pretty much Mijas Costa. Along the coast, the endless beaches each have their own character, from the rockier, more deserted beaches to the east of the region to the more popular, softer and wider affairs that are located in La Cala and Riviera del Sol. By car it takes a bit just over 40 minutes to Malaga airport.
Mijas Costa is an ideal destination for both family and friend holidays, with safe beaches and local shops, bars, restaurants and golf on hand in each resort. Beach Life offers a lot of water sports from jet skiing, water skiing, kite surfing, wake boarding, windsurfing, and paragliding. Mijas Costa, just like the rest of the Costa del Sol, has got over 300 days of sunshine that attracts every year. It gives a pleasant life, whether you live here permanently or own a holiday home. In and around Mijas Costa's 10 golf courses speak for those who enjoy golf.
Golf is a big feature of life for the inhabitants of Mijas Costa. The Costa del Sol is renowned for being one of the best golfing regions in Europe, and Mijas Costa boasts four world-class courses within a short radius, including Tamisa Golf and La Siesta Golf Course. The climate and beautiful landscape make golf a pleasure even for beginners, with the ever-inviting 19th hole at the clubhouse the perfect way to wrap up a round.

Heading into Fuengirola, you find beachside of the coast road becomes Fuengirola, the mountainside side remains Mijas Costa. Las Lagunas is the last neighbourhood of Mijas Costa. It's a fairly new urbanisation of apartments and townhouses, a Spanish residential area, with local shops, bars, restaurants, a theatre and a Saturday market. You can easily walk into Fuengirola from Las Lagunas.
Mijas Costa is a very popular area for British to buy houses and apartments. Our agents will gladly help you if you are looking to buy a house or apartment in Mijas Costa. FUTURAMA Marbella & Costa del Sol has very good properties for sale in Mijas Costa. Please Contact us
The area of Mijas Costa includes amongst others the following popular holiday resorts:
Calahonda
Riviera del Sol
La Cala de Mijas
El Faro
CALAHONDA
Located in Mijas Costa, between Fuengirola and Marbella, halfway along Malaga Province's coast, Calahonda's boundaries are difficult to define. The town area near the coast is actually rather small, yet the urbanisations, golf courses and private residences stretch for miles inland, over some of the region's most gently undulating terrain. Its geographical makeup has helped Calahonda create a distinct community of expats, drawn from Britain, Ireland, and Scandinavia.
The resort is very good for you who want to play golf, and there are 6 golf courses near Calahonda. Beside Calahonda is the cosy marina of Cabopino full of small bars and restaurants. The beach in Calahonda and Cabopino, have been granted the EU blue flag for clean water. If you want to go shopping you have Marbella's large shopping mall in La Cañada with lots of shops about 10 minutes away. Calahonda has a wonderful climate with over 300 days of sunshine per year. The summer one is nice and warm and winter is reminiscent of British summer!!
Around Calahonda you will find golf courses Cabopino Golf Club, Golf Club Marbella, Santa Clara Golf Santa Maria Golf & Country Club, Golf Artola and Greenlife Golf Club. Golf is a big part of life in and around Calahonda and the Costa del Sol is sometimes known as the Costa del Golf because it has so many golf courses here.
For prospective residents, the close proximity of Marbella's Costa del Sol hospital is a bonus, as are the fine selection of international schools found either side of Calahonda, including the excellent English International College on the eastern outskirts of Marbella, and St Anthony's College in Mijas Costa.

For livelier evenings, the super clubs of Marbella and Puerto Banus are a short drive away, while the residential areas of inland Calahonda have a fine smattering of quieter taverns that are ideal for a few late night drinks with family and friends.
In Calahonda is it good to buy holiday apartment or a permanent residence. There are plenty to choose from and in our villa and apartment database so you can find many houses, townhouses and apartments for sale. Normally, we also have some penthouse for sale in Calahonda. Many of our owners live in Calahonda and as such FUTURAMA Marbella & Costa del Sol is much immersed in the area around Calahonda. We always have the best items here for sale. Our broker will help you arrange a viewing trip to Calahonda and the Costa del Sol. Tell me when you come and we'll take you around a number of houses, townhouses or apartments, so you get a little overview of what is for sale in Calahonda.
RIVIERA DEL SOL
The next resort is that of Riviera del Sol-Miraflores. Two urbanisations practically rolled into one. Miraflores is home to the Miraflores Golf and Bowling Club. There is also a beach and country club, which offers lots of activities for non-members. The area has lots of bars and restaurants to choose from, and of course the beach is on your doorstep. As with Calahonda, Riviera del Sol and Miraflores reach up high into the hills looking out across the Mediterranean. If your accommodation is located up in the hills, a car hire is definitely recommended.

Next stop along Mijas Costa is the charming residential neighbourhood of El Chaparral. Built around El Chaparral Golf, the quiet, leafy urbanisation is a lot less commercial than its neighbours. Made up of pretty villas and gardens, it's the ideal getaway destination; close to the beach, golf and the resorts of La Cala de Mijas and Fuengirola, yet tucked away for a completely relaxing holiday.

LA CALA DE MIJAS
La Cala de Mijas is an excellent all-round holiday destination.
It enjoys a village feel, with excellent amenities, a long stretch of golden sandy beach and heaps of restaurants, bars and beach cafes to choose from. There is a popular children's park in La Cala, with a little cafe where parents can sit back and relax, while children play.
During the summer months, the park often organises fun activities such as face painting, games and bouncy castles. There is a large market held every Saturday in the fairground and throughout July and August there is a beachside market and during a week in August, a Medieval Market is held in the main square with food, music, artisan stalls and children's activities.
In La Cala de Mijas is it good to buy holiday apartment or a permanent residence. There are plenty to choose from and in our villa and apartment database so you can find many houses, townhouses and apartments for sale.
El Faro
Idyllic and charming, El Faro is best known locally for its iconic lighthouse, from where it gets its name. Perched on a jutting peninsula that is located a couple of kilometres west of Fuengirola, El Faro boasts some of the finest Mediterranean views found anywhere on the coast.
The purpose of the lighthouse at El Faro is, as with all lighthouses, to warn of an impending rocky shoreline. One glimpse down towards the beach and you soon see why: the normally golden sands that characterise the Costa del Sol are broken here with sharp rocks making for some exceptional rock-pooling. Kids of all nationalities are especially drawn to the shore here, armed with nets and buckets, and a desire to catch the biggest crab possible.
Either side of the rocky section are fine beaches that are rather tightly penned-in by the highway, The other side of the highway is made up of quiet residential streets, well-tended gardens, a couple of shops and, well, that's pretty much it. El Faro is a peaceful and attractive little place that would make an ideal location for a second home.

The beach is within easy walking distance; as are several dining-out options. If you're feeling energetic, Fuengirola can also be reached on foot too, particularly the nearside attractions, which include the imposing Sohail Castle and the large Miramar shopping mall. Families with school-age children can send their offspring to St. Anthony's College in Mijas Costa or one of various other international schools and kindergartens slightly further afield. Marbella's Costa del Sol hospital is handily located, as are some of the best golf courses in Southern Spain, including Mijas Golf and the superb La Cala Resort.
FUTURAMA Marbella & Costa del Sol has a large selection of properties for sale (studios, apartments, penthouses, semi-detached houses and independent villas), next to or close to the beach, on the front line or in near urbanizations, including developments of good quality that have an excellent value for money. Likewise, we have very interesting promotions whether it is for sale on plan or its construction is being finalized. We are at your disposal to help you find your ideal home. Please click Contact.