MARBELLA EAST
The stretch of coastline east of Marbella has become increasingly popular with families looking for the perfect home in which to bring up their children.
To the east of Marbella, Rio Real golf course has been attracting professional and amateur golfers for over five decades and this splendid course designed by Javier Arana, a leading light in golf course design, is considered one of the most prestigious courses in Spain by the Royal Spanish Golf Federation. Frontline golf properties in Marbella East are primarily located within quiet and secure gated communities. The lush greenery of the area's pine and cork forests ensures an unrivalled sense of closeness to nature whilst still being within a 10-minute drive of the heart of Marbella. Santa Clara Golf, which is located between Rio Real and Elviria, also boasts some beautiful frontline villas and with Santa Maria golf course also in the vicinity, golfers are spoilt for choice in Marbella East.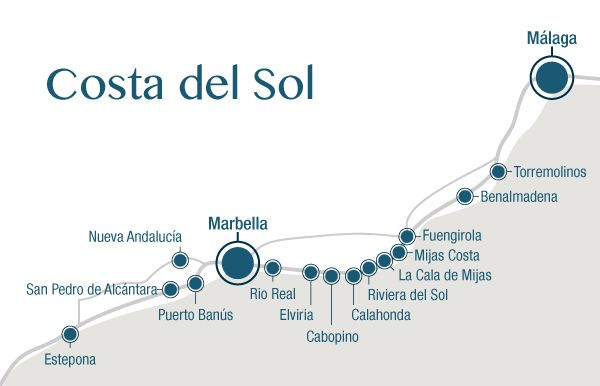 From Puerto Cabopino to Río Real, the low density residential zones surrounded by greenery and pine groves near some of the best beaches in Marbella, make for a quiet and relaxed lifestyle within reach of all the amenities and infrastructure a modern family requires.
The exclusive areas closest to Marbella, Río Real and Los Monteros, are among the finest addresses in this region, with particularly the frontline beach villas in Los Monteros offering a Marbella real estate option of rare exclusivity and prestige. Close by are the communities of villas in Santa Clara, a newer residential area on the hillside of the coastal A7 road that offers fine quality modern homes featuring advanced architectural design and the best in today's mod cons.
On the mountainside of the road you will find a collection of first-class golf courses, Río Real, Santa Clara, Marbella Golf and Country Club, Santa María and Cabopino. while the shoreline here is known for having the finest soft cream-coloured sands, lofty dunes and coastal pine groves that make this arguably the best section of coast in the entire Costa del Sol. Much of it is protected, but you will also find peaceful residential areas offering beachside villas in Carib Playa, Marbesa and Las Chapas, which are also home to laid-back beach bars, excellent fish restaurants and trendy beach clubs.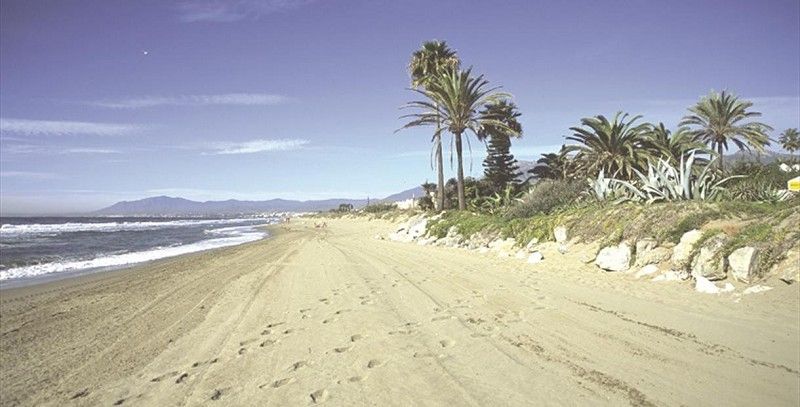 The villas in El Rosario are mostly medium sized and make this a popular residential area among families, along with the presence of sports facilities such as tennis clubs and the English International College. The centre of this region, however, is Elviria, an upmarket residential area that is also home to a shopping centre, restaurants, cafés, supermarkets and luxury resort hotels such as the Hotel Don Carlos, whose beach club is the famous Nikki Beach. The villas and apartments for sale in Elviria are among the most sought after on this side of Marbella, which thanks to its attractive features and space for expansion is currently becoming one of the most in-vogue areas to look for homes and investments.
Though you are still no more than ten minutes from Marbella town and 15 minutes from Puerto Banús and its famous marina, East Marbella has its very own yacht harbour in the form of Cabopino. Bordering a protected natural area, this charming little marina with restaurants and cafés centred upon an intimate corner of the coast is a much-loved meeting point for families and romantic couples, making the Cabopino apartments a popular option for holidaymakers from across the European continent.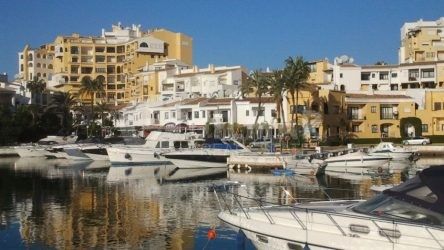 When it comes to your child's education, nearby schools include the German School and the English International College, while several of the local state schools offer a bilingual curriculum too.
SCHOOLS IN MARBELLA EAST
For the younger members of the family, Marbella East is very well provided for in terms of educational establishments.
Colegio Las Chapas teaches both boys and girls at junior level but exclusively girls at secondary level when the boys move to ECOS. Approved by the Junta de Andalucía as Catholic bilingual schools, children are immersed in English for 50% of their school day right from pre-school age. Classes in German, French and English.
Ages: 5-18
Address: Las Chapas ● 29600 Marbella ● Tel. 0034-952831616
E: secretaria.ecos@attendis.com ● W: www.laschapas.attendis.es
Colegio Alborán is a private bilingual school for children aged three to 18. Unusually among its facilities are a farm and stables where children learn to care for and respect animals. There are also impressive sporting and arts facilities.
T: +34 952 839 645 ● F: +34 952 839 646 ● E: info@colegioalboran.org ● W: www.colegioalboran.es
THE ENGLISH INTERNATIONAL COLLEGE
More than 80% of the students are British. Playing fields and two swimming pools. Catering.
Founded: 1982 ● Ages: 3-18 ● Pupils: 500
Address: Urbanizacion Ricmar ● CN 340, KM 189,5 ● 29600 Marbella
T: +34 952 831 058 ● F: +34 952 838 992 ● E: information@eic.edu ● W: www.eicmarbella.org
COLEGIO ALEMAN, GERMAN SCHOOL, DEUTSCHE SCHULE
Deutsche Schüle is popular with many nationalities, teaching children from three to 18. Founded in 1898 and recognised (and approved) by both the German and Spanish educational authorities, this is one of the most highly respected private international schools on the Costa del Sol.
Address: Urbanización Coto Los Dolores ● Elviria - La Mairena ● 29600 Marbella
T: +34 952 831 417 ● F: +34 952 838 575 ● E: sekretariat@dsmalaga.com
ECOS COLLEGE INTERNATIONAL SCHOOL
Boy's school with excellent academic orientation. Classes in Spanish, German and English.
Ages: 1-18
Address: Urbanización Elviria s/n ● Apartado de Correos 16 ● 29600 Marbella
T: +34 952 831 027 ● F: +34 952 834 678 ● E: Secretatria.ecos@attendis.com ● W:www.ecos.attendis.com
The Spanish state schools in Marbella East are very popular with Spanish and foreign residents too. Applications are made via the Junta de Andalucía's Consejería de Educación in March each year for the junior school, Platero, and secondary school IES Dunas de las Chapas. The education offered is exclusively in Spanish but foreign families are welcomed.
GOLF COURSES IN MARBELLA EAST
Marbella East offers an extraordinary mix of residential areas centred on some of the Costa del Sol's most beautiful sandy beaches, and some of its finest fairways.
The prestigious Río Real Golf opened in 1965 to high acclaim thanks to its superb location, just five minutes away from the centre of Marbella and surrounded by spectacular scenery. Spanning more than 6,000m, its 18 holes appeal to players of varying standards, many of whom choose to take advantage of the excellent Golf Academy where experts provide tailored tuition to adults, juniors and disabled golfers.
Santa Clara Golf opened much more recently in 2001 but has quickly established itself as a technically challenging yet enjoyable course designed to test players' long and short games. Santa Clara Golf offers an unusually wide driving range as well as two practice putting greens, an approach shot area, bunkers and pitching green.
A little further to the east, the Marbella Golf and Country Club was designed by renowned golf architect, Robert Trent Jones. By the time the club opened in 1994, Robert Trent Jones had planned over 450 courses including many of the most important international championship courses. With 18 holes and a par of 72, Marbella Golf offers many additional facilities including tennis, a wellness centre, yoga, Pilates, massage, physiotherapy and a high quality restaurant in the clubhouse.
Santa María Golf in Elviria was developed around a 19th century Spanish cortijo. The club values its family of members and provides a range of sporting facilities that include tennis and bowling, in addition to a super restaurant with views over the course. Santa María's 18 fairways are surrounded by pine trees, cork oaks and incredible views.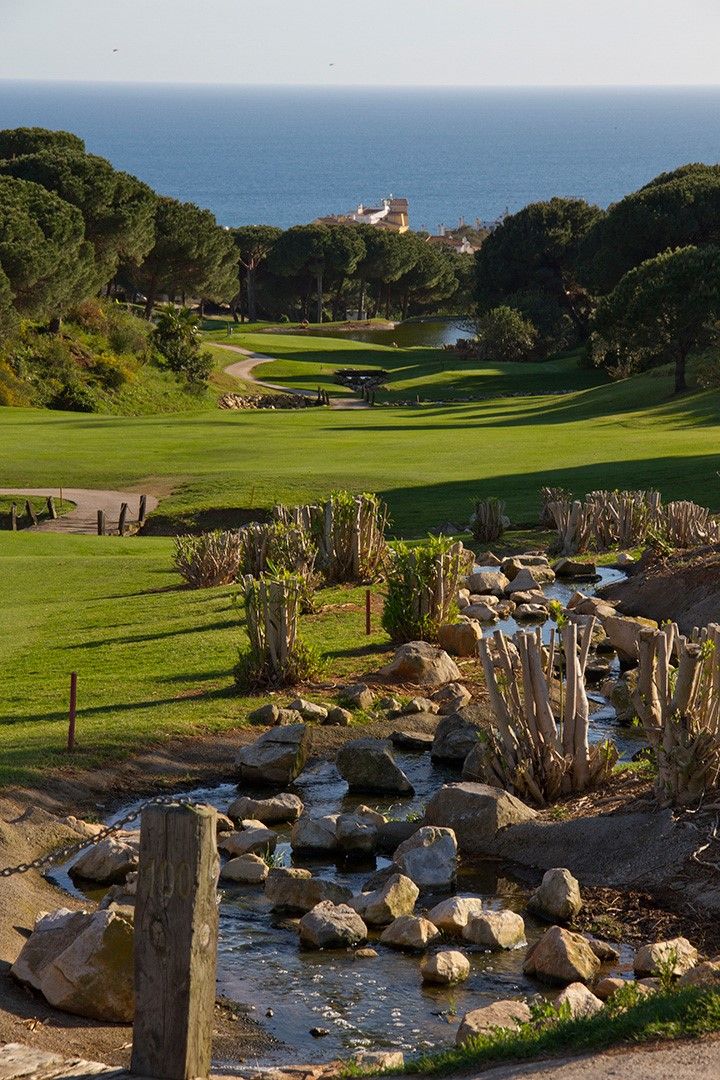 FUTURAMA Marbella & Costa del Sol has a large selection of properties for sale (studios, apartments, penthouses, semi-detached houses and independent villas), next to or close to the beach, on the front line or in near urbanizations, including developments of good quality that have an excellent value for money. Likewise, we have very interesting promotions whether it is for sale on plan or its construction is being finalized. We are at your disposal to help you find your ideal home. Please click

Contact.