FUENGIROLA
Fuengirola is located exactly halfway between Malaga and Marbella, only 25 km from Malaga International Airport. One of the advantages of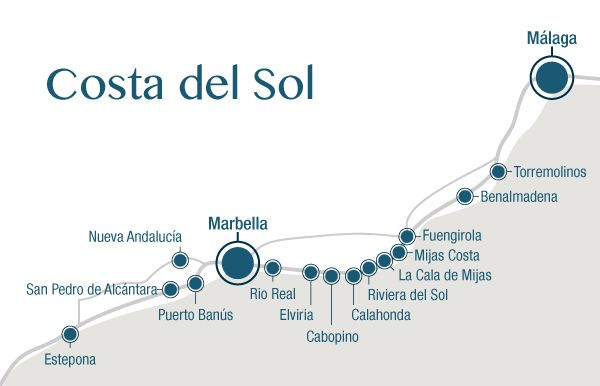 Fuengirola is that you can go by train to Malaga and Malaga Airport. It takes a bit just over 15 minutes to Malaga airport.
Fuengirola has 69,000 inhabitants and a surface Area of 10.2 square kilometres The area enjoys a subtropical Mediterranean climate, with more than 8 km of a broad sandy beach along a promenade extending east and west from the town, that includes smaller adjacent villages. The beach has the EU blue flag for clean beach and clean water.
Fuengirola now offers all the facilities to be expected of a major tourist centre - hotels, restaurants, bars, clubs, discothèques, sports clubs, a yacht harbour and you can find English speaking International Schools.
About 25% of the residents are foreigners and delivers an intriguing melting pot of cultures, where it is not uncommon to see British, Irish, French, Danish and German inhabitants not only cohabiting but mingling with the local Spanish and South American population, creating a cultural cocktail that is pretty much unique in the region.
In Fuengirola, there's much more on offer, particularly for younger members of the family. Fuengirola Zoo is a brilliant example of clever design in a tight space: surrounded by residential apartments, the zoo manages to cram in a wide selection of species in a small area, does some sterling conservation work and proves a distracting day out for all the family.

Mijas Aquapark is another such attraction that combines a great price with a great day out for all the family. The park has plenty of slides, pools, Jacuzzis and bathing and shaded areas to ensure all ages have a fun-packed time.
Fuengirola's Neighborhoods: Los Boliches, Torreblanca et La Sierrezuela.
If you want to buy an apartment, attached house or detached villa in Fuengirola, you have a few options. Apartments are spread throughout most areas while it might be harder to find houses in all parts. Apart from the city centre which, with a few blocks of townhouse as only exceptions, consists mainly of apartments, Fuengirola has got a few other interesting neighbourhoods in its 10.2 square kilometres.
Los Boliches
Just east of the centre lies Los Boliches. This part of the town consists mainly of apartment houses and a few blocks of attached houses. The blocks closest to the beach is a bustling area with lots of restaurants, bars and small shops. There are also some larger groceries stores like Mercadona etc. and everything is within comfortable distances.
A few blocks from the beach you can find townhouses. Those are few and sought after, because of their proximity to the city. Los Boliches have good access to the highway.
Torreblanca
Torreblanca is a suburb a couple of kilometres east of Fuengirola city centre. This is a common place for British and Scandinavians to settle down with their family. In Torreblanca you will find many detached villas, some attached houses but also some apartments. The streets are quieter than down-town or Los Boliches. Many houses in Torreblanca have panoramic views of the Mediterranean including view of Africa and Gibraltar in winter time. With the views and height this comes of course a steep uphill walk from the beach so unless you find an apartment or townhouse close to the beach you will need a car. The houses in Torreblanca are often roomier and have larger gardens than the areas closer to the centre of Fuengirola.
La Sierrezuela
La Sierrezuela is technically not part of Fuengirola as it lies in the municipality of Mijas. But as Fuengirola has expanded past it city limits Sierrezuela is now attached to Fuengirola. It's a quiet neighbourhood with many spacious and luxurious detached villas and generous gardens. The distance to the centre and the beach is about 3-4 km. Many of the villas in La Sierrezuela have private pools.
Fuengirola's history dates back to the ancient Phoenicians who came about 1600 BC. They founded a major trading post here which was in use for long time. After the Phoenicians came the Romans who had a large settlement here and they built a fortress in Fuengirola. There was also a fish salting plant and they dealt with olives from the surroundings to Fuengirola. The Romans were left on the Costa del Sol and Fuengirola in the 8th century when the Muslims took over Spain. In the 12th century the Muslims built the fort and castle in Fuengirola. But in 1487 Fuengirola was liberated.

Visiting Marbella, Mijas Pueblo, Puerto Banus and Estepona can all be done in one day and setting your sights further afield couldn't be easier if you opt to go on a day excursion. Granada, Seville, Ronda, Nerja, Gibraltar can all be reached (and returned) between breakfast and dinner, while you can stretch your timetable some hours and visit Tangiers and Morocco.
Our Agency FUTURAMA Marbella & Costa del Sol has a lot for sale in Fuengirola. Our agents will gladly help you if you are looking to buy a villa, townhouse or an apartment. Please Contact us