ELVIRIA
Elviria area guide: welcoming and convenient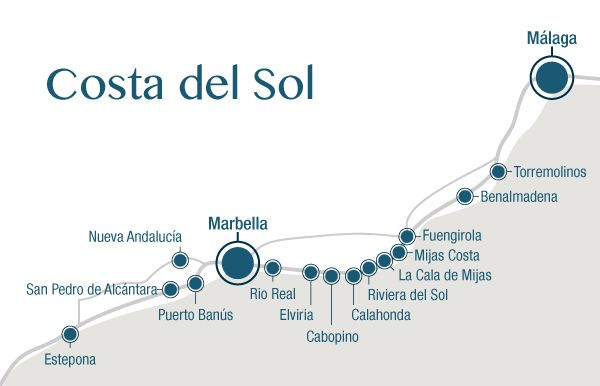 Reputation
Not quite Marbella certainly not Calahonda, and seemingly featureless as you scoot either up or down the coastal highway – which acts as a divider between the quieter residential areas at the rear, and the livelier beachfront – if you consider the Costa del Sol to be little more than endless beaches, whitewashed resorts, expat havens and the occasional bar and restaurant, Elviria will do little to shatter that stereotype.
Reality,
In fact, Elviria's location makes it an excellent option for a second home or relocation. Close to the shops, bars and amenities of Marbella, and the lovely beaches of Cabopino (while also boasting its own splendid beaches too), much of the Spanish Dream exists either within or very close to Elviria.
Just inland, the maze of perfectly manicured avenues and streets are home to a number of sumptuous villas and townhouses, in addition to the more affordable apartment complexes. This sprawling suburbia stretches right up to the famous La Mairena development, which sits in the heart of lush countryside, surrounded by golf courses and emerald green hills. Although purpose-built and lacking a real centre, Elviria has a pleasantly welcoming and laid-back atmosphere, one which is augmented by the array of different nationalities that call the resort home.
So, if you are planning on relocating for good, Elviria will certainly be of interest: it's peaceful and extremely safe, and is easily accessible from Malaga airport. For the prospective second-home buyer, it certainly has its strengths, but temporary residents may find it lacks some of the attractions they are seeking, such as a more instantaneous and obviously touristy social hub. Well, apart from one of the coast's most famous attractions...
By day
A typical day spent in Elviria could take the form of many different guises. Most residents will have their own private or shared pool, so a lazy day spent catching some rays and cooling off with a dip is always a popular option – the shaded tropical gardens that accompany most apartment complexes and villas act as a magnificent buffer zone from the outside world.
The tree-lined streets are peaceful and pretty, while the busy coastal highway can be crossed on-foot with the minimum of fuss via an overpass junction. Just off from here is a commercial centre with large supermarket, plus a selection of shops, restaurants and bars, including a couple of friendly expat bars that prove quite magnetic during the summer months.
A short walk from here is a well-equipped sports centre complete with an all-weather multi-purpose pitch – perfect for kids of all ages hoping to work up a sweat. Equally impressive and accessible are Elviria's two tennis clubs – the Hofsass Tennis College (where daily lessons can be arranged) and the El Casco Tennis Club. Slightly farther afield is the superb Río Real Golf Course, which boasts the distinction of being the very first golf course built on the Costa del Sol.
Down by the beach sits Elviria's most famous attraction – Nikki Beach. While advertised the world over as 'Marbella's Nikki Beach', it is actually located right here in Elviria, beside the equally famous and exclusive Don Carlos Hotel. While neither are cheap, both carry some serious kudos, so if you can manage a day or evening there, then endeavour to do so; if not for the actual experience, then most definitely for the photo opportunities and the chance to brag about it the next day on Facebook, as probably 99% of all those who visit do. Near to Nikki Beach are a number of more affordable chiringuitos, chic eateries and traditional beach bars, all extremely welcoming.
By night
Throughout the summer months, Nikki Beach is one of the main party hubs found anywhere on the Costa del Sol. Its reputation is immense, with guests literally jetting in from all over the globe to be part of the summer celebrations. In May the club throws its famous 'White Party', which announces the beginning of summer. This celebration is ostensibly invite-only, but the rules are extremely relaxed on this, so it's very easy to get in... just wear white. Simple. Getting served at the free bar proves much more difficult, but that's a different story – with so many 'wealthy' guests, the scrum that ensues for a bit of free San Miguel is something that has to be seen to be believed. In October, the 'Red Party' marks the end of the season, and is an altogether more sombre affair. Wear red this time and you're, ironically, golden.
Elsewhere, cross the overpass back toward the residential section of Elviria and some of the aforementioned bars wait, where an eclectic and mostly foreign crowd gathers each evening. Hardly riotous, the atmosphere here is more your common-or-garden holiday pub, with late night opening hours and the chance to drink al fresco until 4am the main attraction. For a more sedate evening, try one of the many nearby restaurants.
FUTURAMA Marbella & Costa del Sol has a large selection of properties for sale (studios, apartments, penthouses, semi-detached houses and independent villas), next to or close to the beach, on the front line or in near urbanizations, including developments of good quality that have an excellent value for money. Likewise, we have very interesting promotions whether it is for sale on plan or its construction is being finalized. We are at your disposal to help you find your ideal home. Please click Contact.