BENAHAVIS
Tucked a few kilometres inland between Estepona and San Pedro de Alcántara Benahavis has been founded in the 11th century as a small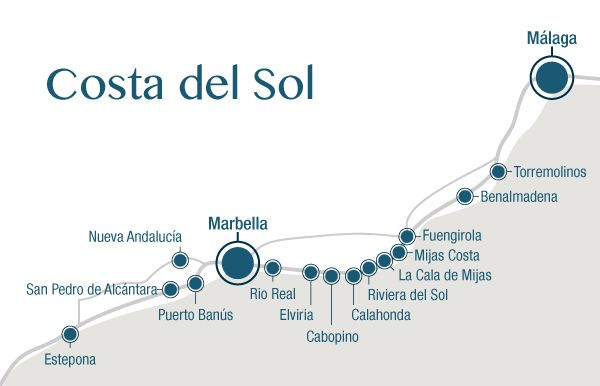 settlement near the strategic Castle of Montemayor. The village of Benahavis is in many ways a typical Andalusian pueblo blanco – or white mountain village.
Today this pretty little village settled into a green valley surrounded by mountains is no longer truly agricultural, yet it retains a charming rural ambience that draws visitors and foreign residents alike. The old village clings to a hillside forming a collection of cobbled streets and intimate little squares where many of the restaurants that Benahavis has become famous for are located.
Known as the culinary hotspot of the Costa del Sol, Benahavis is just seven kilometres from the sea, with a broad choice of golf clubs, beaches, beach clubs, international bilingual schools, hospitals, spas, shops, restaurants, nightlife and sporting facilities. Ideal for people looking to enjoy the tranquillity and peace of the area, the stunning sea views, a first class golf course and the services found in nearby San Pedro, Marbella and Puerto Banus. Nine of the 60 golf courses on this coast are located within the municipal boundaries of Benahavis, one of the largest in the region in terms of area.
Although the village is small, the municipality of Benahavis stretches over 145 km2 that represents 18,08% of the total surface area of the western Costa del Sol and 1.98% of the 7.310 km2 of Malaga province. It has a mean altitude of 150 meters and is crossed by rivers Guadalmina, Guadaiza and Guadalmanza. The climate is Mediterranean with an average temperature of 17º and it is well connected to Malaga via A-7 motorway and the airport can be reached in about 60 minutes.

It is this variety of experiences within such a small area that accounts for much of Marbella's popularity. Some love the authentic village atmosphere in a location so conveniently close to all amenities, and look for rustic apartments and townhouses in the village itself, or in the valley that surrounds it. Here there are also some villas, as well as such facilities as a school, golf driving range, spa resort hotel, public swimming pools and tennis courts, and hiking trails that lead further into the foothills of the Serranía de Ronda.
Others, however, prefer properties overlooking fairways in a golf and country club environment.
Benahavis has a golf valley of its own.
Within the Benahavis county there are several golf courses and well known housing developments such as La Quinta, Los Arqueros, El Madroñal and further west Los Flamingos, Capanes, La Alqueria, Marbella Club and Montemayor all of them boasting superb golf and sports facilities, as well as the renowned La Zagaleta Golf and Country Club considered to be one of the best of its kind in the whole of Europe. The choice of properties for sale in the Benahavis area is huge and ranges from the small holiday apartment near a golf course or contemporary apartments to the most luxurious villas on the hills with fabulous views of the mountains and the Mediterranean Sea.
As a residential option, it is especially in vogue with those people either looking to build their own villa or searching for a newly constructed home that offers contemporary style and every modern amenity. Most of these residential zones of luxury apartment's complexes, private villas and small gated communities set within subtropical gardens.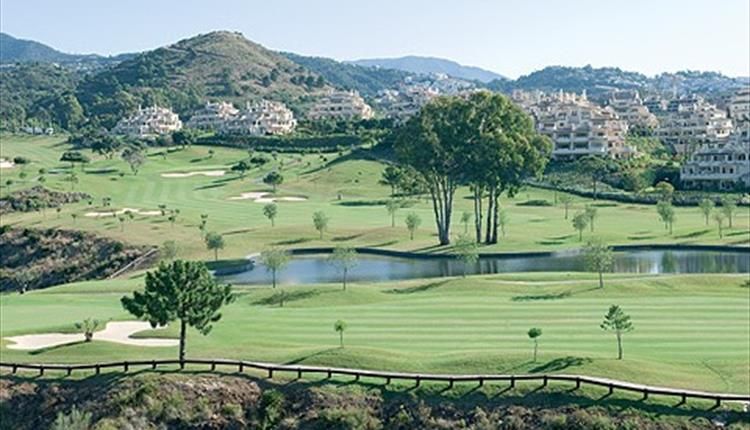 It is here that you will find most of the golf courses, as well as the pretty village development of La Heredia, where white and pastel coloured townhouses, apartments and villas congregate in the style of a true Andalusian village. Shops and cafes form the heart of such communities, which enjoy fantastic perspectives of the coastal area right along to Gibraltar and North Africa. Further up the road, in El Madroñal, apartments and townhouses largely give way to luxurious villas on large private plots, while the gated community of La Zagaleta is a mansion club that ranks among the most exclusive in Europe.
You can find residential developments like Monte Mayor which developer carefully planned master project of undeveloped plots of minimum 2000m² and buildable surface area of 12.2% which focused on low density, privacy and tranquillity. That development policy of 'low density' meant that only 46% of the 365 hectares can be developed, making Monte Mayor Golf & Country Club a secluded and private residential estate which will maintain its beauty over time.
With all of this, as well as unspoiled nature, surrounding you, it is not surprising that Benahavis rivals Marbella itself as a living and visiting destination of international repute.
In FUTURAMA Marbella & Costa del Sol we have a large selection of properties for sale in Benahavis (apartments, penthouses, semi-detached houses and frontline golf villas), next to or close to the beach, on the frontline or in near urbanizations, including developments of good quality that have an excellent value for money. Likewise, we have very interesting promotions whether it is for sale on plan or its construction is being finalized. We are at your disposal to help you find your ideal home. Please click Contact.